Citrus-Honey Glazed Salmon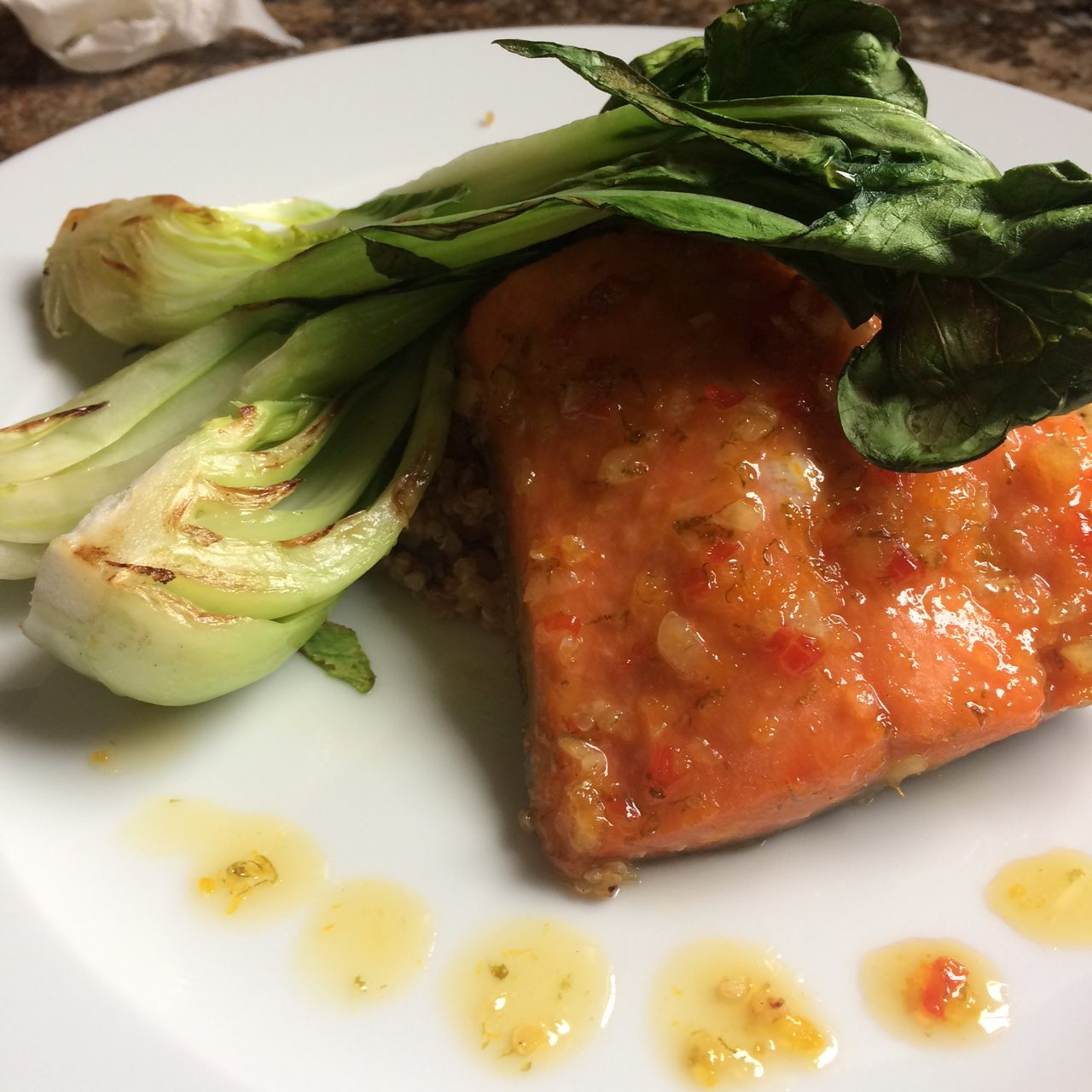 This recipe was inspired by both the seasonal citrus and my son's love of fish. He was recently given the all-clear to reintroduce salmon back into his diet, and so we have been making it often these days! He's practically begging for it.
He craves fish, I can't get enough citrus. I've been buying lemons and limes and grapefruits and oranges and tangerines seemingly by the bag. They're on the counter. In the fridge. In the garage fridge. And they need to be used before that white fuzz sneaks up on them. But I digress.
This sauce is a little more complexly flavored than the typical salmon dressing, the traditional squeeze of lemon juice, and really isn't that hard or involved. And you can adjust it to your liking – sweeter, spicier, more sour. It's really up to what you like.
Choose wild caught salmon when possible. I know it's often touted as "not as sustainable." And that statement makes me pause. But "sustainable" salmon is farm-raised, and farm-raised fish get treated with antibiotics and pesticides. Which aren't things I'd choose to put in my body, and certainly aren't sustainable for the earth. Plus the nutritional profile of farm-raised fish is lacking, thereby changing the color of the fish to closer to grey. It's such a significant difference that farm-raised salmon are often fed food coloring to achieve the beautiful shade of orange whose color name they share.
Let's look at the health-promoting benefits of this recipe. All salmon contains brain-building omega-3 fatty acids, immune-supportive Vitamins A and D, bone-building calcium, phosphorus, protein, and magnesium. So even if you are buying farm-raised salmon, you are still getting benefits and should not feel badly about making this choice! Additionally, citrus, ginger, and garlic are excellent sources of immune-boosters. Honey is loaded with B vitamins, Vitamin C, and protein.
Some quick culinary notes before you dig into the recipe. When zesting the orange and lime, be sure to get the brightly colored parts. The underlying white pith is very bitter! Take the salmon out of the refrigerator about 30 minutes before baking to allow it to come to room temperature before baking. And taste the glaze before spreading on the fish. If too spicy or tart, add a splash more honey to balance the flavors.
Citrus-Honey Glazed Salmon
Yield: Serves 2
Total time: 40 minutes

Ingredients
1/4 C orange juice OR 1 orange, zested and juiced
1 lime, zested and juiced
1/8" fresh ginger, minced OR 1/8 tsp ground ginger
1 clove garlic, minced
1 bird chili, minced OR 1/8 tsp red pepper flakes (optional)
2 Tbsp raw, unfiltered honey
1 tsp rice vinegar OR apple cider vinegar
sea salt, to taste
2, 4 oz wild Coho or other wild salmon fillets
Directions
1. Preheat oven to 350ºF.
2. Line a baking sheet with parchment paper.
3. In a small saucepan over low heat, combine orange juice and zest, lime juice and zest, ginger, garlic, chili or red pepper flakes, honey, vinegar, and a pinch of salt. Stir over low heat at a simmer several about 10 minutes, until the liquid reduces and thickens slightly. It should coat the spoon and look like honey. Set aside and allow to cool.
4. Place salmon fillets on parchment paper, skin side down. Sprinkle with salt. Pour and spread citrus glaze mixture over fish.
5. Bake salmon until flakey and done to your likeness, about 10-14 minutes depending on the thickness of the fish.
---
---