?? For Those Kids (and Adults) That Eat All.The.Snacks. ?
"… On Friday he ate through five oranges, but he was still hungry. On Saturday he ate through one piece of chocolate cake, One ice-cream cone, One pickle, One slice of Swiss cheese, One slice of salami, One lollipop, One piece of cherry pie, One sausage, One cupcake, and One slice of watermelon…."
-Eric Carlson, The Very Hungry Caterpillar. (Though I think he was talking about my child.)
Back to school time.
It's come too soon, or not fast enough, depending on who you ask.
Regardless of the timing, these kids need to be fed brain foods to power through the day. And they sure are hungry. Be it during or after school snacks, the right foods can keep them going through bedtime. I like to aim for a balanced snack that contains carbs for quick energy plus fats and proteins to maintain steady blood sugar and keep the energy level maintained. Snacks should not be substantial enough that they substitute a meal, but rather contain a few bites to recharge and maybe also get some extra vegetables in as well.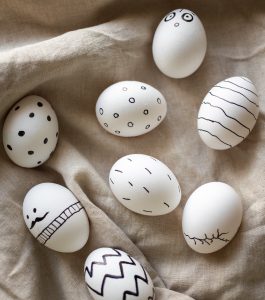 Grab & Go
Mamma Chia pouches (available Amazon, Target, Walmart, Online Natural Grocers)
Meat sticks with fruit (meat sticks available on Amazon, Whole Foods, Natural Grocers)
Organic mozzarella sticks with fruit
Rhythm carrot sticks or cauliflower bites or broccoli bites (available on Amazon)
Precut mixed fruits or whole fruits (bananas, oranges, apples, pears, berries, etc.) with nuts or single serving nut butter such as Justin's Almond Butter or Nuttzo squeeze packs
Precut veggies with single serve hummus or guacamole (Costco has hummus and guac single servings. Wholly Guacamole is great and available at most retailers)
Wallaby Greek organic no sugar added whole milk yogurt (Whole Foods, Natural Grocers)
MadeGood granola bar (available  Target, Walmart, CVS, Whole Foods, Amazon)
Biena chickpea snacks (available most retailers, Target, Walmart, Whole Foods, local groceries, Amazon)
Hard boiled eggs with fruit
Dang's Coconut Chips (available Target, Walmart, Whole Foods, Natural Grocers, Amazon, Online natural grocers) with fruit and Jerky
Mary's Gone Crackers or Siete chips with salsa, guac, or hummus (available Target, Whole Foods, Amazon)
Purely Elizabeth Grain Free granola with berries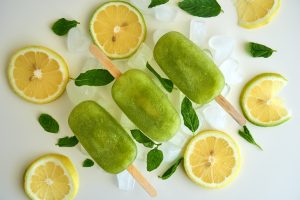 Some assembly required
Bento snack box, with a combination of 2-4:

GF whole grain crackers like RW Garcia Sweet potato crackers
Grapes or cherries 
Apple or pear slices  
Unprocessed sliced turkey or ham
Hard boiled eggs 
Carrot or celery sticks
Cucumber slices or lactofermented (non-vinegar) pickles 
Olives 
Hummus 
Guacamole 
Sunflower seeds (GoRaw)

Smoothie frozen into popsicles 
Trail mix (1 part each: almonds, peanuts, walnuts, raisins)
Zucchini bread made into muffins
Lundberg organic rice cake topped with nut butter & sliced bananas and strawberries 
Pickles or frozen bananas on a stick, or fruit kebabs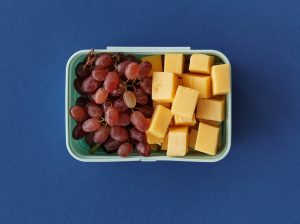 Your child be more engaged, calmer, and happier while you save time in the kitchen.
Pro tip: Want to save even more time while encouraging your child to eat healthfully? Ask your child to help you prep their snacks for the day!
---
---