Pecan-Crusted Honey Mustard Salmon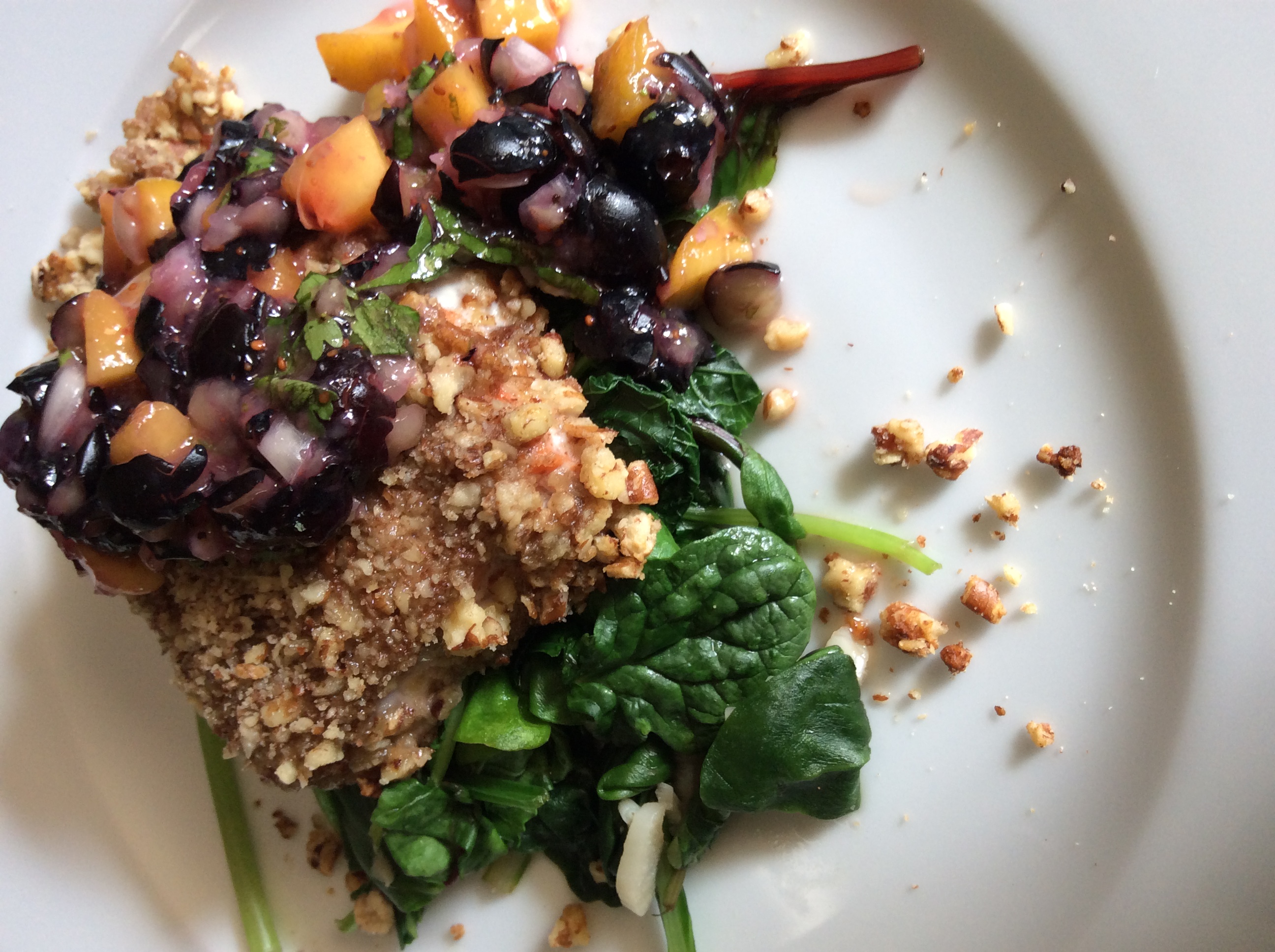 This easy dish is full of the good stuff!
Salmon contains brain-building omega-3 fatty acids, immune-supportive Vitamins A and D, bone-building calcium, phosphorus, protein, and magnesium. Wild caught salmon is preferable to farmed. Wild caught contains a greater percentage of nutrients, as evidenced by its deeper, richer coloring. Farmed fish are subjected to pesticides for sea lice, antibiotics due to close living quarters, and unnatural feed that often contains food coloring to make up for their poor diet. Wild caught are from Alaska, and there are several varieties including coho, sockeye, and king. A label of Atlantic or Scottish salmon is nearly always your tip off that it was farmed. Frozen wild caught is perfectly fine!
Pecans are a good source of fiber, iron, healthy fats and omega-3s, as well as manganese, an antioxidant and bone-builder.
Honey contains a mix of B vitamins, antioxidant Vitamin C, and amino acids. Choose raw and unfiltered for the best quality; bonus of its organic.
Best of all, this recipe is very simple and can be thrown together at the last minute.
Just make sure your fish is at room temperature before putting in the oven. It's best to allow the fillets to sit on the counter for up to 30 minutes before you cook them. Thaw the night before in the fridge or at the last minute under cold running water if using frozen.
It may be tempting to bake at a higher temperature, but you don't want to destroy the delicate omega-3 fatty acids and other healthful fats in the nuts from too hot an oven.
Pecan-Crusted Honey Mustard Salmon
Yield: Serves 2
Total time: 30 minutes
Ingredients
1 Tbsp raw, unfiltered honey
1 Tbsp stone-ground or Dijon prepared mustard
1/3 C chopped pecan
2, 4 oz wild Coho or other wild salmon fillets
Kosher salt and freshly ground pepper, to taste
Directions
1. Preheat oven to 350ºF.
2. Line a baking sheet with parchment paper.
3. In a small bowl, mix honey with mustard. Set aside.
4. Place pecans into food processor and pulse until small pieces remain; some flour is ok but still leave chunks. Alternatively, chop with a large knife to the appropriate size. Set aside.
5. Place salmon fillets on parchment paper, skin side down. Sprinkle with salt and pepper. Pour honey mustard mixture over top and spread evenly to coat all sides but bottom. Pour pecans over both fillets and pat onto fish to stick.
6. Bake salmon until flakey and done to your likeness, about 10-14 minutes depending on your oven and preferences.
Serve with sautéed spinach with lemon juice and perhaps blueberry peach salsa for a delicious meal.
Bon appetite!
---
---