Blueberry Peach Salsa
As the weather warms up towards summer temperatures, I'm finding myself craving fresh fruits and looking for ways to incorporate them into meals. And, as usual, I try to combine foods that give me a huge nutritional boost. This blueberry peach salsa fit the bill.
Blueberries are a super food. Just look at their deep, gorgeous color; that's your clue to its power.  They are high in a multitude of antioxidants, including Vitamin C, Vitamin E, beta-carotene, and a ton of other types of antioxidants. Antioxidants are cancer-fighting, and so extremely important. Beta-carotene converts to vitamin A, which allows us to see in low light and is great for the skin. Meanwhile, Vitamin C and lutein are great for combating free radicals to protect from cancer. They're also a great source of fiber, important for healthy digestion and protective from colon cancer. Blueberries also contain chlorogenic acid, which keeps blood sugar in check. No sugar spikes from this fruit! And they're a strong source of B vitamins, Vitamin K, potassium, zinc, copper, iron, and manganese.
Berry crops are heavily sprayed with pesticides, blueberries included. Therefore, organic is highly recommended when possible.
A gorgeous yellow-orange fruit, peaches, too, have their share of antioxidants, in the forms of Vitamin C,  beta-carotene, and others like lutein. Peaches are also high in iron, potassium, and a safe amount of fluoride. Again, this crop is heavily treated with pesticides, and so organic is your best bet when possible.
Shallots are alliums – they're a type of onion, very mild tasting. Onions are loaded with antioxidant, anti-cancerous properties, and eating them raw gives you more of a benefit. If you don't have shallots, feel free to substitute red onion instead. Just note that red onions can be very strongly flavored, with a harsh bite – not the flavor we're going for here! If you must use red onion, try soaking the chopped pieces in cold water for about 15 minutes before adding to the salsa and strain well to remove some of those bitter tasting compounds.
Limes have a bright, tart flavor that pulls together the sweetness of the fruit for a savory dish. The sourness of this citrus helps to use less salt in this recipe. Limes contain omega-3 fatty acids, which are important for healthy cell membranes and reducing inflammation in the body. They are also high in Vitamin C, Vitamin A, folate, choline, potassium, and calcium. If a recipe calls for both zesting and juicing a lime, zest first, juice last. When you use a zester, you're aiming to get only the colorful part of the skin. The white part underneath the colorful exterior, the pith, is very bitter! We don't want that in our salsa! Also, when using the zest in a recipe, aim for organic fruit when possible, as pesticides are concentrated in citrus rinds.
Lastly, cilantro adds color and brightness to our salsa, as well as some amazing health benefits. Also known as coriander, cilantro is often used in Asian and Mexican cooking. It's high in beta-carotene and other antioxidants, Vitamin K, as well as potassium, magnesium, and calcium. Cilantro is often used to help pull heavy metals from the body, which is a great perk.If you're one of the folks with a gene that makes cilantro taste like soap, by all means leave it out! This recipe is pretty flexible. Don't have blueberries? Use fresh or frozen cherries. Don't care for peaches? Use mangos or apricots or even peeled orange segments.
Serve with grilled or roasted chicken or fish, or with chips for dipping.
Blueberry Peach Salsa
Yield: 2 servings
Time: 15 minutes
Ingredients
1 C blueberries, washed
1/3 C peach, chopped into small pieces
1 medium shallot OR ~2-3 Tbsp red onion, finely chopped
1 lime, zested and juiced
2-3 Tbsp fresh cilantro, chopped
sea salt, to taste
Directions
1. Coarsely chop blueberries with a large knife or pulse in a food processor. You want chunks, not a puree.
2. Add blueberries, peach, shallot, lime zest and juice, and cilantro to a bowl. Gently mix to incorporate.
3. Add salt to taste. You may need more lime juice to brighten the flavors.
4. Serve immediately and use within 1 day.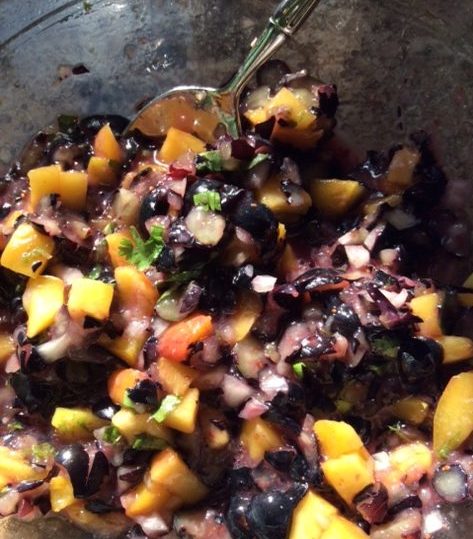 ---
---