White Bean and Kale Soup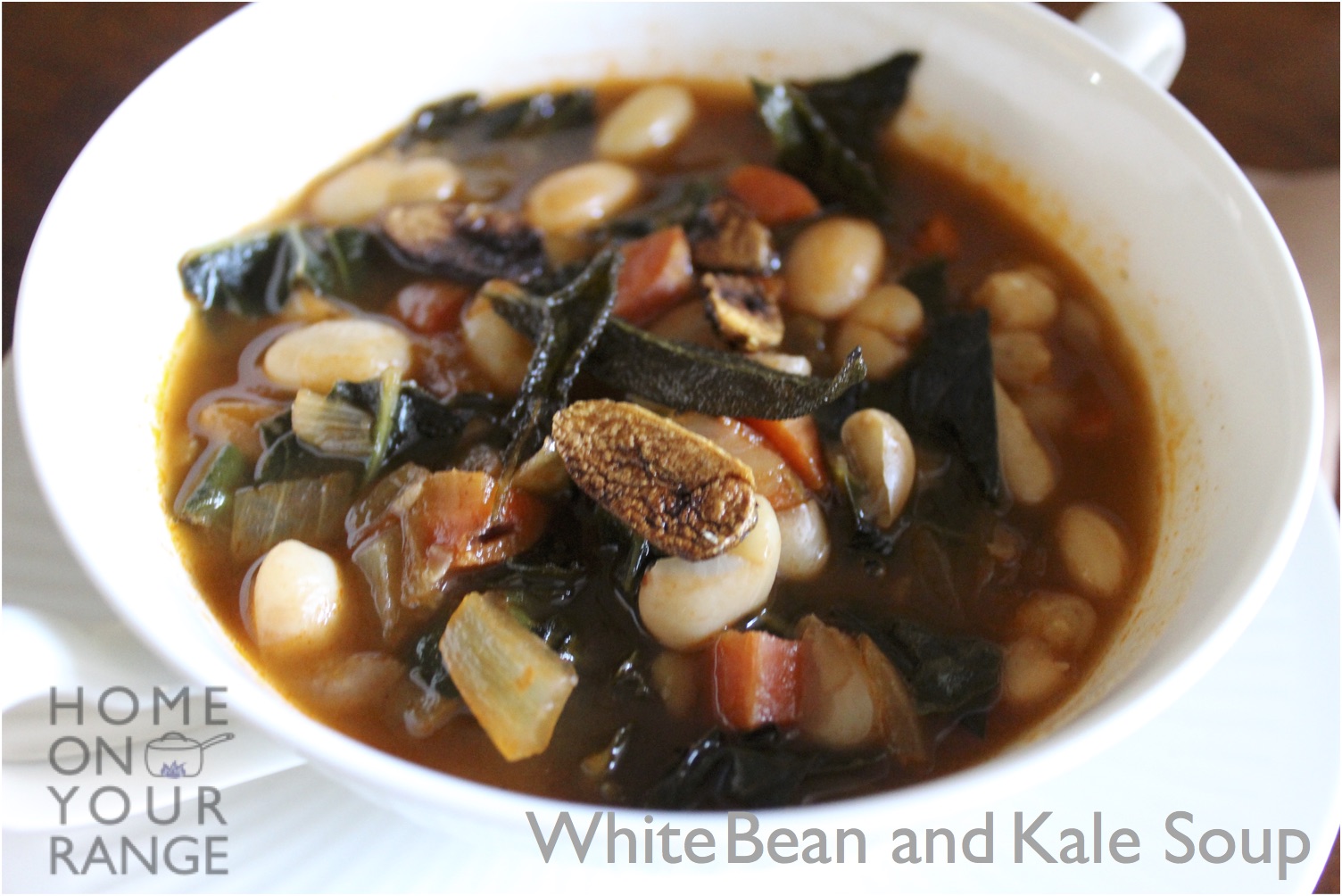 I love soup. Any weather. Any reason. I make it happen.
This delicious white bean and kale soup just fits the bill. It's a sunshiny spring day. I'm hungry. I'm feeling like I should eat some veggies. I have beans already cooked and kale begging to be eaten. Done.
This soup is a nutrient powerhouse.
Kale is low in calories, while it contains a decent amount of protein, fiber, vitamins A (beta-carotene), C, and K, folate and several other B vitamins,  omega-3s, manganese, and calcium, among other minerals. It contains cancer-fighting and antioxidant phytonutrients. It's one of the best foods you can eat.

And cannellini beans are nothing to sneeze at, either. They are low in calories, full of fiber and protein, and a great source of antioxidants, potassium, and calcium.
As an aside, if you have the time to cook dried beans instead of buying canned, do it – it's well worth the minor time investment. The beans should be soaked 1-2 days to allow enzymes in the beans to break down the chemicals that can cause gas and bloating! When you're ready to cook then, just strain and drain, and put in a pot with double the amount of water. Bring to a boil, simmer until tender, and strain.
I have to give credit here to my favorite recipe writer of all times, Deborah Madison. She wrote a soup cookbook. It's vegetarian. Her palate is infallible. Some things are just meant to be.
This recipe is adapted from Deborah Madison's White Beam and Black Kale Minestra with Farro.
This soup comes together quickly.
Take your time with it, especially when it's done. Inhale the fragrant steam. Taste the delicate, lightly herby tomato broth, studded with creamy white beans and tender kale. Drizzle with fruity-peppery olive oil, sprinkle with crispy garlic and sage chips. Eat this soup hot with a thick slice of tangy sourdough and a chunk of Emmenthaler cheese, if you're into it.
I hope you enjoy. Bon appetite!
White Bean and Kale Soup
Adapted from Deborah Madison's White Beam and Black Kale Minestra with Farro
Yield: 2 quarts; 8, 8 oz bowls
Time: 90 minutes
Ingredients
For the broth:
8 cups filtered water
3 garlic cloves, crushed, peeled
1/4 teaspoon dried sage OR 5 leaves fresh sage
2 bay leaves
5 large parsley stems OR 1 tsp dried parsley leaves
1 1/4 teaspoons Kosher or sea salt
For the main soup:
2 tablespoons extra virgin olive oil
1 medium yellow onion, medium dice
3 medium carrots, medium dice
2 stalks celery, medium dice
1 teaspoon dried oregano
1/4 teaspoon thyme
5 garlic cloves, minced
2 tablespoons tomato paste
1/2 cup deglazing liquid (water, dry red wine, broth)
1 bunch lacianto (dinosaur) or curly kale leaves, stems removed, cut into strips or torn into pieces
14 oz can diced tomatoes
2 cups cannellini beans, cooked and drained
salt and ground black pepper, to taste
additional water as needed
additional extra virgin olive oil for drizzling
For the garnish:
1 tablespoon extra virgin olive oil
2 cloves garlic, peeled, thinly sliced lengthwise
8-16 fresh sage leaves
Directions
1. Prepare the broth: In a small saucepan, add the water, herbs, and salt. Bring to a simmer, and allow to cook for about an hour. Remove the herbs and reserve the liquid.
2. Prepare the main soup: While the broth is cooking, in a large saucepan, heat the oil over low-medium heat. Add onions, carrots, celery, garlic, and dried herbs and saute until the onion is softened and translucent, about 10-15 minutes.
3. Add tomato paste and stir through. Continue cooking while stirring until a brown film forms at the bottom of the pot.
4. Deglaze your large saucepan with your chosen liquid, and scrape the bottom of the pan to incorporate the brown bits into your soup. Reduce the liquid by half.
5. Add the kale to the pot. Allow to cook until wilted. Add the diced tomatoes and cannellini beans and stir through. Add the reserved broth from the small saucepan. Bring to a simmer to heat the soup through. Season with salt and pepper to taste. (If the soup is too thick, add a little additional water until it's your desired consistency.)
6. Prepare the garnish: Heat the olive oil in a small saute pan. When hot but not smoking, add garlic slices and sage leaves. Turn heat to low and allow to become golden on one side. Flip and continue cooking until golden on the next side. Remove from the pan with a slotted spoon.
7. To serve: Ladle finished soup into bowls. Top with the garlic chips, sage, and a drizzle of olive oil.
---
---