Nourishing Vegetable Broth
No matter the time of year, broth is a perfect food. It's warming. Refreshing. Practical and easy. Plus it's good for gut healing – a bonus!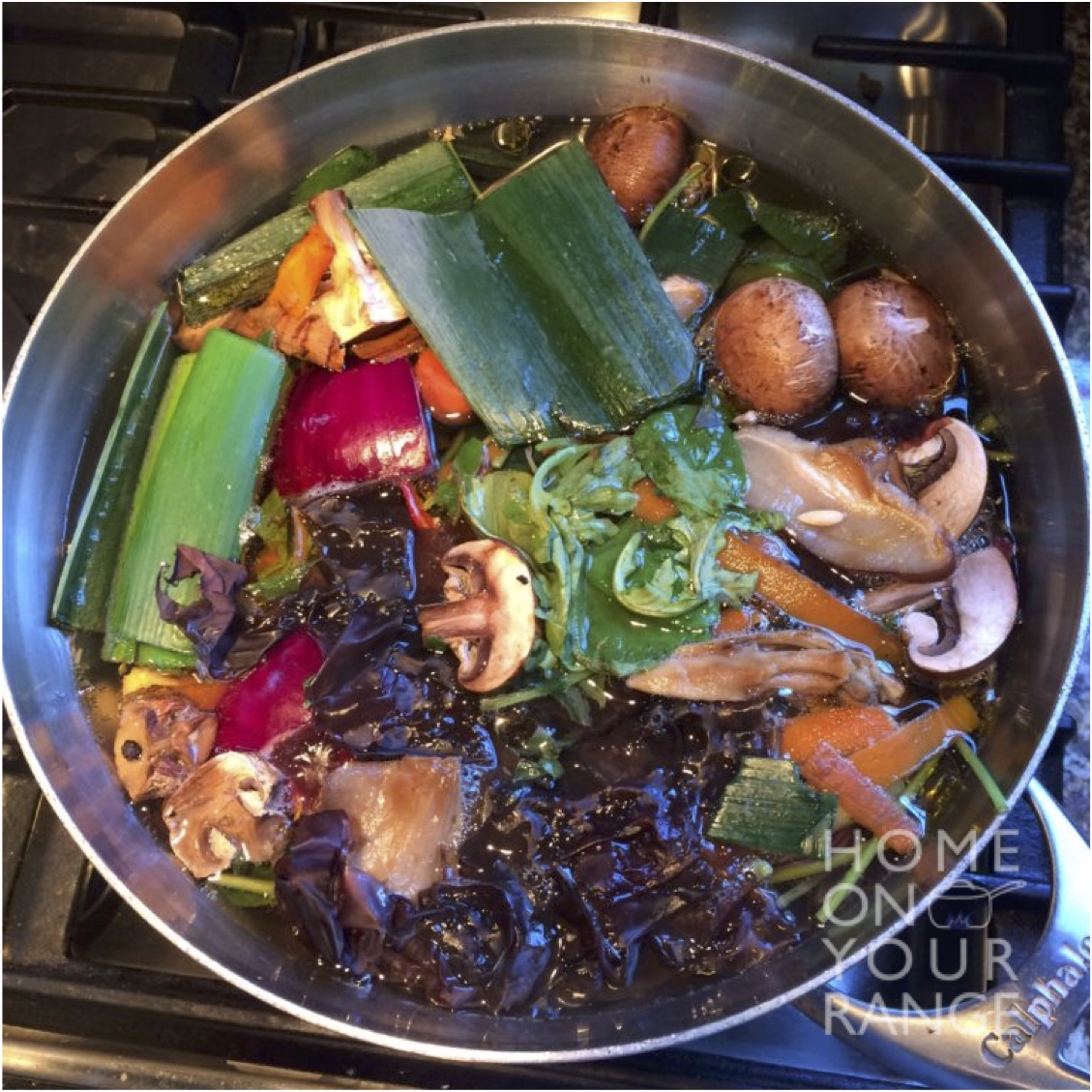 I usually keep a bag of vegetable scraps in the freezer in a gallon Ziploc in anticipation of making a soup like this. I'll tell you more about this in a later post! From this bag of free discards, I can make an aromatic, nourishing broth. Though I usually add a few other super foods to it as well and truly make a knock out.
Here's a rundown of what makes this broth aaaaah-mazing for you:
Onion, ginger, garlic – anti-bacterial, anti-viral, anti-inflammatory; great for illness and general immune support
Turmeric – anti-inflammatory, anti-bacterial; great for swollen sinuses
Mushrooms – high in nutrients; some varieties can even fight cancer and other ailments
Cilantro – removes heavy metals
Seaweed (dulse, kelp) – binds to and removes heavy metals; great source of iodine for healthy thyroid function
Various vegetables – provides a variety of different essential vitamins and minerals
Coconut oil – anti-bacterial, anti-viral, anti-fungal; great source of medium-chain fatty acids
The recipe for this soup is just a skeleton, so modify it as you need. Love garlic? Increase it. Dislike mushrooms? Nix them. Got some lemongrass? Leave out the parsley.
Nourishing Vegetable Broth
Adapted from Wallflower Kitchen
Yield: varies
Prep time: 10 minutes
Cook time: several hours
Ingredients
1 onion, unpeeled, quartered
1/2-1 head garlic, peeled
1-2 tsp ground or 1″ knob fresh sliced turmeric
2-3 tsp ground or 2″ knob fresh sliced ginger
1-2 birds eye Thai chili peppers
1 bunch fresh cilantro
2-3 large handfuls mixed vegetable scraps (carrots, parsnips, leeks, onions, celery, zucchini, sweet potato, white potato, parsley or cilantro stems, etc.)
1 handful leafy greens, including cabbage leaves (purple works too!), spinach, chard, etc.
5-6 fresh or dried mushrooms
1 sheet dried kelp or dulse
1 Tbsp coconut oil
12-16 cups filtered water
sea salt, to taste
Directions
1. Wash all ingredients. Place in large stock pot. Add enough water to submerge vegetables.
2. Simmer several hours, until broth takes on a rich color and reduces.
3. Strain broth, pressing on vegetables to release liquid. If desired, add more water to the vegetables and make a second, weaker batch.
4. Allow to cool and refrigerate or freeze. Sip straight, use as a soup base, or substitute for water in dishes such as rice, sauteed vegetables, and pasta
---
---