Our proven method that we use with our 1:1 private clients, now available in group format!
This is for you if:
You are have uncomfortable digestive symptoms or problems with your poo,
You don't know what foods are safe to eat anymore, and
You believe you really could feel better if only you had a game plan & knew what steps to take over the next 4 months
How We're Going to Get You Your Results:
Step 1: Dietary Deep Dive – Explore the ideal diet for you so that you know exactly what to eat and how to prepare it so that your gut symptoms don't keep coming back
Step 2: Microbiome & Mineral Assessment – Uncover the health of your gut and what's living in there, as well as your nutritional status
Step 3: Sleep Deep Dive – Improve sleep for deeply restorative healing
Step 4: Hydration Deep Dive – Intensively hydrate your cells in order to "take out the trash" from your body and detox appropriately
Step 5: Stress Deep Dive – Learn tools to manage your stress to maintain the gains you're making with gut microbial rebalancing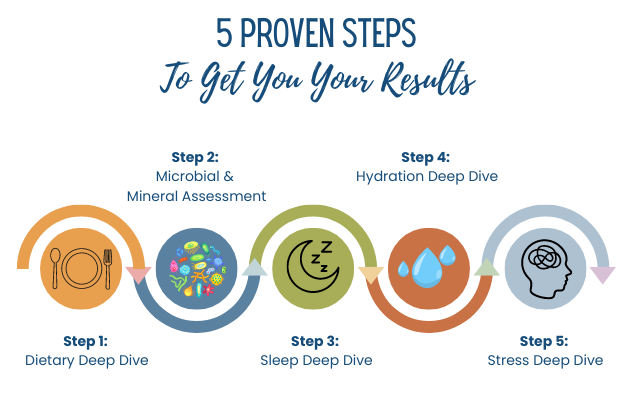 What's Included:
1:1 Gut Health Kickoff: Here's where we welcome you to your program and start exploring your unique health history and symptoms, lead by Amy Spindel personally. (Amy's no longer taking on new clients outside of this opportunity!)
Biweekly Group Deep Dive Calls throughout the program to dig intensively into every layer of your health & put you on a custom path that works for your body. Lead by Functional Health Coach Cheryl Paswater.
Opportunity to obtain comprehensive stool testing and a hair tissue mineral analysis (HTMA) so that we can dig into your unique biochemistry and health status to make personalized recommendations for what's going to best get you your desired results (lab fees are separate).
Unlimited Text Mentorship and Private Group Community Chat during the 16 week program through Practice Better's HIPAA compliant messenger, so you always have someone in your corner & can get answers fast.
The Gut Fix Formula Course lifetime access so you can master your health at every edge and angle and learn outside of our 1:1 calls.
And In Celebration of Our Group Launch, Take Advantage of:
Limited time discounted pricing (payment plan and several payment options available). The price will never be this low again!
Personal video delivery of your lab results by Amy herself for those that pay in full
Registration closes 9/11.
Group runs biweekly for an hour from 9/20-12/13. Replays available if you need to miss a week.
We have limited spaces available for this special opportunity!
See you there!