Form-submitted journals will now replace the paper-and-pencil pdf 3-day Food and Mood Journals and cronometer.com analyses that I had been using with you prior. 
With the new Better journals, I will be able to set individual nutrient targets based on each person's needs so that we can both track how you are doing in reaching your nutrient goals. A complete nutrient analysis will also be calculated through the journals. And the food database seems fairly comprehensive. As always, you can create your own foods and recipes as needed. 
Please log days that you will be successful at tracking, when you will have some control over what you are eating and are aware of the ingredients in blended foods. Also choose 1 weekend and 1-2 weekdays to log together.
Easier things to log: 
Home cooked meals 
Packaged foods that have nutritional information
Restaurants where it's very clear what was served and estimations are satisfactory generalizations, even if that restaurant isn't listed in the database – ie., ½ C tomato sauce, 6 oz grilled meat, 4 oz cup of minestrone soup, 1 slice Udi's gluten free bread with 1 tsp butter, Chick Fil'A grilled nuggets, etc. 
Harder to log: 
Buffets, picnics, potlucks where it's unclear what's in the food and the quantities consumed
Meals others have cooked
Using the Food Journals
Once you open your journals, you can choose the day you are recording for. Then choose "add entry" – you can do a general type of entry (food, water, lifestyle), or add a specific meal.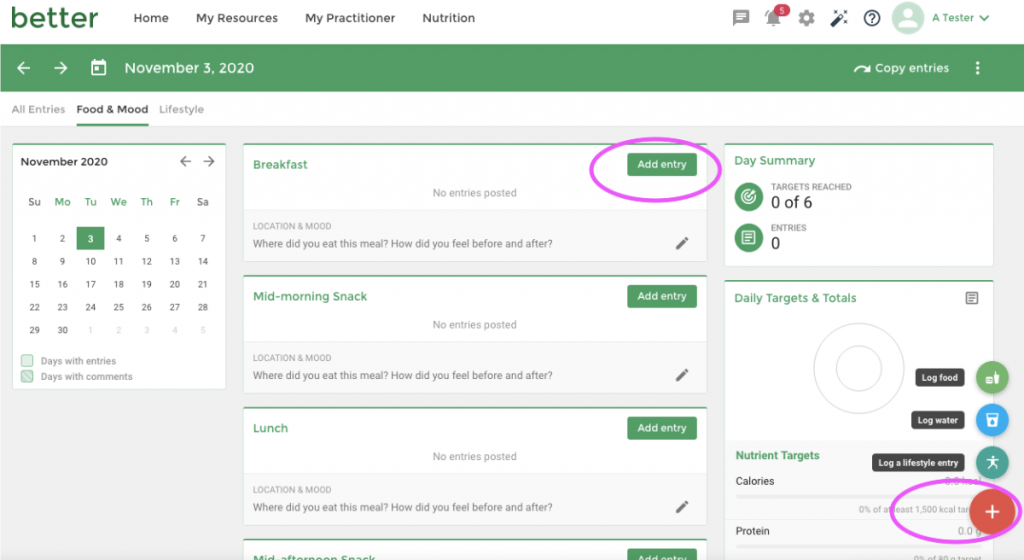 As you add foods, the targets and totals will automatically tabulate. Remember that I can adjust the targets based on your nutrient needs. As of right now, everyone is set to default. As your next session approach, I will be updating your targets based on height and weight, activity level, metabolism, and other factors – so you may see this change over the next month or two. 
PLEASE resist the urge to submit free-form or photograph entries if we are needing to analyze your food. These entry types will not be analyzed.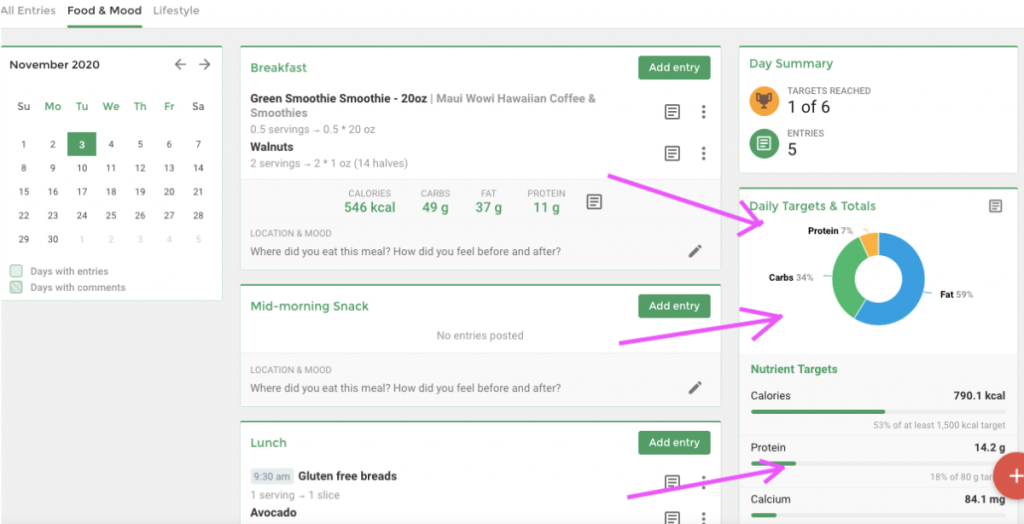 You can continue to add foods throughout the day by meal, modify the quantity, and see the breakdowns for each specific meal.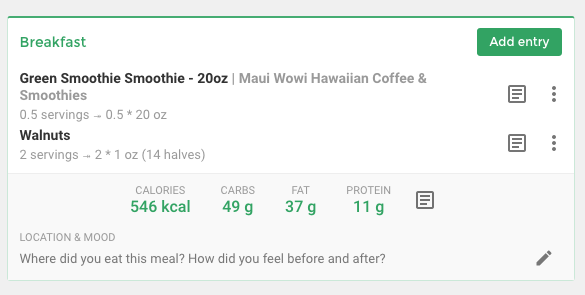 If your next day of logs has overlap to the prior day – say you eat 2 eggs, half an avocado, and a black coffee every morning for breakfast – you can simply click "copy entries" and copy them over without having to search again to add.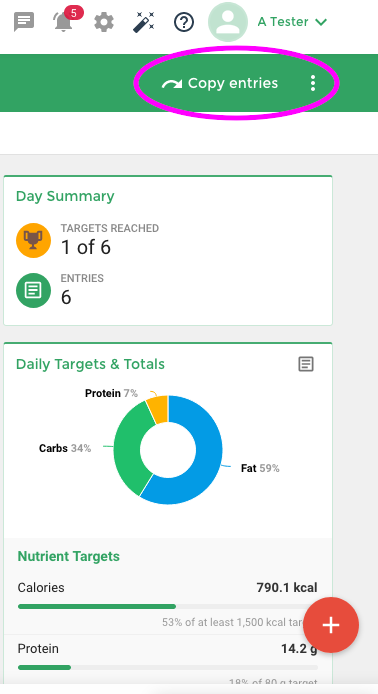 Mood Journaling
Another important part of the journals is the mood component so that we can understand how different foods impact your hunger, energy, and emotional state, and vice versa. Under each meal and snack is the ability to add this in.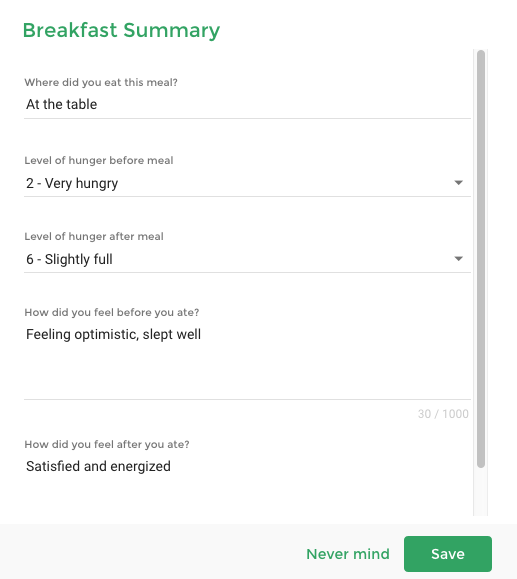 Water
Log water either at the bottom of the day of meals, or by click that plus on the bottom right. 
Tip: clicking each glass will ADD the amount of glasses to the total; the blue glasses do not represent the overall total.
Each glass = 8 oz = 1 Cup.

Lifestyle Journaling
This is still an important journal component, and they've made it easy and all in one place. Use lifestyle journals to log physical activity, changes in weight, your mood at any given time, stools for the day, how you slept, and anything you feel I should know about – perhaps something you noticed with a supplement impacting any of these, or that you had more or less gastrointestinal symptoms than usual for that day.
The one thing it doesn't ask is if this was done on a "typical" day – feel free to mention that as a note!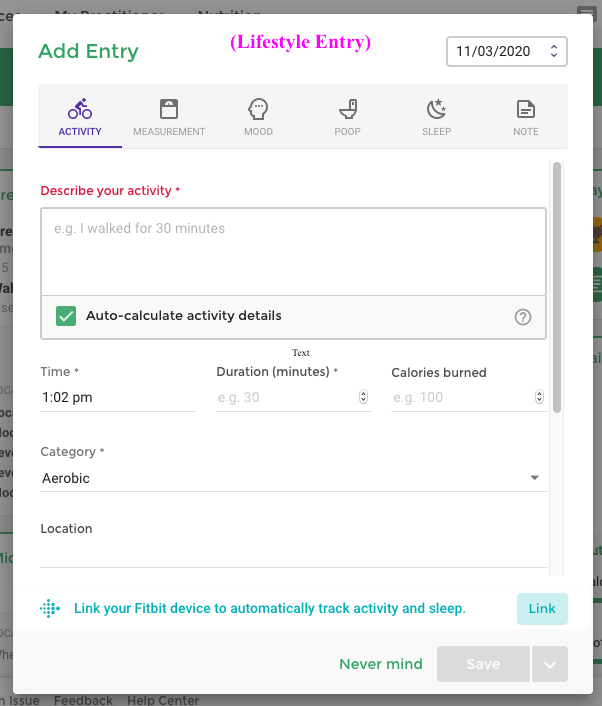 If you're in tracking food and lifestyle journals to keep yourself accountable and we don't need analysis, please feel free to use the freeform for yourself.
Estimates are better than nothing, and I take these with a grain of salt – looking for trends and patterns rather than meeting precise intake numbers!